Appointment as Principal Conductor of the Bonn Opera, Germany
August 24, 2015
The Theater Bonn in Germany announces the appointment of Jacques Lacombe as the next Principal Conductor of the Bonn Opera. His two-year term will begin with the 2016-2017 season.
One of the leading opera houses in Germany, the Bonn Opera dedicates a major part of its programming to German composers and rarely performed works including Holofernes by Emil Nikolaus von Reznicek, which will mark Maestro Lacombe's debut on May 29, 2016. Located on the shores of the Rhine, the opera house is the residence of the Beethoven Orchester Bonn, one of the most renowned orchestras in Germany.
Remaining at the helm of the Orchestre symphonique de Trois-Rivières, Maestro Lacombe's appointment at this prestigious European opera house will not diminish his presence on the international stage. As announced in October 2014, Maestro Lacombe will step down as Music Director of the New Jersey Symphony Orchestra at the end of his present contract in June 2016. Accustomed to the German music scene, he performs regularly in Germany, most notably at the Deutsche Oper Berlin where he performed 3 operas last season: Bizet's Carmen, Samson et Dalila by Saint-Saëns and La Damnation de Faust by Berlioz.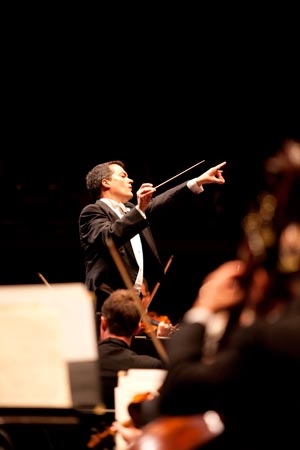 Photo : Steve Rosen