Jacques Lacombe Returns to Covent Garden
June 12, 2012
Conductor Jacques Lacombe will conduct Puccini's La Bohème at the Royal Opera House in Covent Garden on June 19 and 23 to replace the Italian conductor Maurizio Benini. He will once again be working with soprano Angela Gheorghiu and tenor Roberto Alagna, with whom he has collaborated on several occasions. Incidentally, in July 2009 Maestro Lacombe led Angela Gheorghiu in the title role of Puccini's Tosca in his debut in this prestigious London hall.
This engagement concludes a memorable spring for Jacques Lacombe who in addition to recently making his debut at Carnegie Hall in New York as well as recording with the Deutsche Oper Berlin operas by both Felix von Weingartner (Die Dorfschule) and Carl Orff (Gisei - Das Opfer) for record label CPO also was knighted by the National Order of Quebec as well. Maestro Lacombe was unable to attend the official ceremony due to his prior commitment to conduct Mahler's Ninth Symphony with the New Jersey Symphony Orchestra. He will receive this honor at a later date.
Born in Cap-de-la-Madeleine, Québec, Jacques Lacombe has conquered the international scene thanks to his remarkable versatility and ability to communicate the spirit of works allowing him to excel in symphonic, opera and ballet repertoire.
Artistic Director of the Orchestre symphonique de Trois-Rivières since 2006, Maestro Lacombe is the first Québecois conductor to become the music director of an American orchestra: the New Jersey Symphony Orchestra. He previously served as principal guest conductor of the Orchestre symphonique de Montréal, musical and artistic director of the Philharmonie de Lorraine, assistant conductor to Charles Dutoit with the OSM and conductor and music director of Les Grands Ballets Canadiens.
Invited by many orchestras and opera houses of prestige, Maestro Lacombe has also performed at Carnegie Hall and the Metropolitan Opera in New York, Covent Garden, Deutsche Oper Berlin and the Bavarian State Opera. He has had the opportunity to work with many renowned artists such as Yo-Yo Ma, Yefim Bronfman, Marc-Andre Hamelin, Lang Lang, Andre Watts, Joshua Bell, Gil Shaham, Renee Fleming, Angela Gheorghiu, Frederica Von Stade, Roberto Alagna and Bryn Terfel.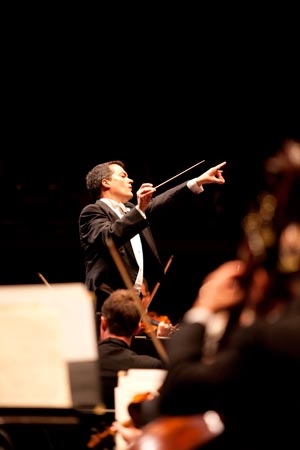 Photo : Steve Rosen