Jacques Lacombe appointed new Music Director of the Orchestre Symphonique de Mulhouse
July 10, 2017
Music Director of the Orchestre symphonique de Trois-Rivière (OSTR), Maestro Lacombe will become the new Music Director of the Orchestre Symphonique de Mulhouse, France starting in September 2018.
Before taking his new position, from this coming september he will act as Music Director designated of the orchestra and among other things, will be in charge of the preparation of the 2018-2019 season of the orchestra, succeeding the Belgian conductor, Patrick Davin for a three year's mandate.
Maestro Lacombe has had a privileged relationship with Orchestre Symphonique de Mulhouse which he conducted in two opera productions, "Le Roi Arthus" by Chausson (2014) and "La Juive" by Halevy (2017) at the Opera National du Rhin. He also conducted the "Faust-Symphony" by Liszt for concerts included in the 2015-2016 concert series of the orchestra in Mulhouse. This prestigious appointment solidifies Jacques Lacombe's career in Europe.
"I'm extremely honored to have been chosen to lead the future of this much admired orchestra. Even more so, since this mandate will allow me to pursue three different aspects of my career, conducting the broad symphonic repertoire, the opera repertoire as well as concerts for younger audiences."
This new position does not compromise Maestro Lacombe's role with the OSTR nor the Bonn Opera where he's principal conductor until the season 2017-2018. He will also pursue his various engagements on the international scene.
Located in Alsace, France, the Orchestre Symphonique de Mulhouse is an outstanding institution. It offers a rich program including symphonic concerts and chamber music concerts as well as a significant number of concerts and activities for younger audiences such as the "ciné-concerts". The orchestra also participates in an important part of the opera and ballet season at the Opéra National du Rhin, alternating with the Orchestre Philharmonique de Strasbourg.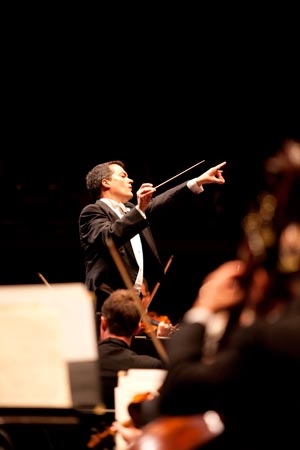 Photo : Steve Rosen