New Recording Release - Verdi Requiem
November 13, 2014
Music Director Jacques Lacombe and the New Jersey Symphony Orchestra will release a live album of the critically acclaimed April 2014 performance of Verdi's Requiem with the Montclair State University Chorale and a quartet of outstanding vocal soloists: soprano Marianne Fiset, mezzo-soprano Janara Kellerman, tenor Russell Thomas and bass Peter Volpe.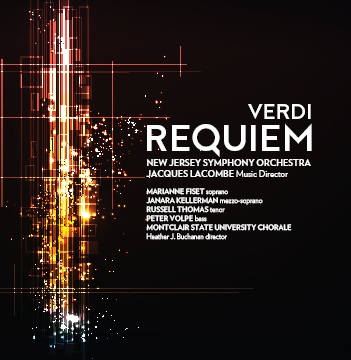 Produced by the NJSO, this recording can be obtained at NJSO concerts beginning November 29, 2014; it is available now for online preorder at www.njsymphony.org/verdiCD or by phone at 1.800.ALLEGRO (255.3476).

In April, The Star-Ledger hailed the Requiem performance: "From the first notes, the rendition effectively conveyed the work's gravitas, with deep, rich weighty sound in the opening halting chords that created a feeling of being stunned by divine power and mortality ... [Soprano Marianne Fiset], the chorus and the orchestra mustered a shattering final climactic outpouring of sound evoking the cosmic before returning to a simple, unison chant, taking the work touchingly back to a humble, human realm."
Superconductor also praised the interpretation of the masterwork: "What is needed [to perform Verdi's Requiem] is an absolute, unshakable faith in the power of voice and orchestra to deliver dramatic thrills equivalent of any staged opera ... Leading the struggle was Mr. Lacombe, [who] brought details of this score into sharp focus, emphasizing the texture of the work and always choosing to luxuriate in the more lyric passage of the score."
Verdi's Requiem—recorded April 3, 2014, at the New Jersey Performing Arts Center in Newark—will be the second recording the NJSO has released under the baton of Maestro Lacombe. The music director's lauded NJSO 2008 debut performance of Carmina Burana is also available on a CD released in 2010. That recording garnered a 10/10 rating from Classics Today, which praised a performance "so superb—so lively, accurate, cleanly recorded, and handsomely played—that its action-movie, apocalyptic aspects are matched by its introspective moments."
The NJSO recording was engineered and produced by Tim Martyn and Karl E. Held. Martyn, a four-time Grammy Award recipient, garnered the 2014 Grammy for Best Engineered Classical Album for a recording of Maria Schneider's "Winter Morning Walks" with Dawn Upshaw, the Australian Chamber Orchestra and Saint Paul Chamber Orchestra.
VERDI'S REQUIEM
Recorded April 2014 at NJPAC in Newark
Jacques Lacombe, conductor
Marianne Fiset, soprano
Janara Kellerman, mezzo-soprano
Russell Thomas, tenor
Peter Volpe, bass
Montclair State University Chorale | Heather J. Buchanan director New Jersey Symphony Orchestra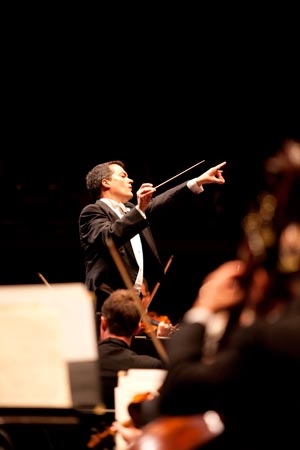 Photo : Steve Rosen