Jacques Lacombe and the NJSO Announce the 2013-14 Season
29 janvier 2013
In his fourth season leading the NJSO, Music Director Jacques Lacombe continues his innovative programming and commitment to celebrating the cultural richness of New Jersey.
Opening Night Celebration: Lacombe opens the NJSO season with a powerful program that features the world premiere of a commission from pianist Geri Allen and a performance of Dvořák's "New World" Symphony that weaves spirituals—sung by Newark church choirs—between movements. Special event packages include a pre- concert cocktail party and a post-concert gala dinner.
Premieres and Commissions: The NJSO's inaugural program in 1922 featured an American premiere. The Orchestra continues that tradition by presenting world premieres of NJSO commissions by Geri Allen and Lowell Liebermann. The NJSO gives the U.S. premiere of André Previn's Cello Concerto and Tan Dun's Earth Concerto, as well as the New Jersey premiere of Richard Danielpour's Clarinet Concerto—an NJSO co-commission.
New Jersey Roots Project: a multi-year commitment to performing world-class music from composers who were either born in New Jersey or whose time spent in the Garden State has significantly influenced their artistic identity. This season, the project highlights the music of Geri Allen (world premiere of a new NJSO commission), Lowell Liebermann (world premiere of a new NJSO commission) and Edward T. Cone (Cadenzas for Oboe and Violin).
"Man & Nature" Winter Festival odyssey: For the 2014 Winter Festival, Lacombe presents two programs in January that share a central theme of earth. Special conversations and events surrounding the concerts will enhance the understanding of both the music and the element earth.
Week I – Mahler's Das Lied von der Erde. The first concert in this year's Winter Festival presents two works rich in emotional meaning. Tan Dun's Earth Concerto is a mesmerizing sonic and visual experience, calling for soloists to play a battery of instruments sourced from natural materials like ceramic and stone. Tan Dun wrote his work specifically to be performed with Mahler's enveloping Song of the Earth, a cycle on ancient Chinese poems that reflect on earthly beauty and life's transience.
Week II – Strauss' Alpine Symphony. Scale the heights with music inspired by Earth's greatest spectacle. Strauss depicts a mountaineering adventure, complete with a sudden storm and a glowing sunset, in his Alpine Symphony. D'Indy's Symphony on a French Mountain Air transports the listener with a serene folk melody from the mountains of southern France. Wagner's Venusberg Music from Tannhäuser opens the program.
The 150th anniversary of Strauss' birth: The Orchestra celebrates the 150th anniversary of Richard Strauss' birth in 2014 with performances of his Alpine Symphony (January 24–26), Violin Concerto and Ein Heldenleben on classical programs and Also Sprach Zarathustra on a family program.
Further emphasizing the importance of artistic collaboration, Lacombe partners the NJSO with several New Jersey arts institutions and performs with New Jersey artists. The Orchestra performs with Newark church choirs, New Jersey High School Holiday Chorus, the Salvation Army Montclair Citadel Band and the Montclair State University Chorale. The NJSO presents the 17th annual UJA Benefit Concert for the United Jewish Communities of MetroWest and presents programs in collaboration with NJPAC and the State Theatre.
Some of the distinguished guest artists include: Joshua Bell, James Ehnes, Vadim Gluzman, Hilary Hahn, Pascal Rogé, Gerard Schwarz, and Yan Pascal Tortelier.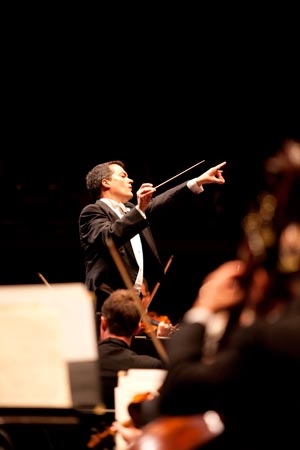 Photo : Steve Rosen