Retour remarqué de Jacques Lacombe au NJSO
30 avril 2010
Le 22 avril dernier, Jacques Lacombe a retrouvé le New Jersey Symphony Orchestra pour la première fois depuis sa nomination à titre de directeur musical désigné de cet orchestre. Pour l'occasion, il a dirigé Sur les rives du Saint-Maurice de Jacques Hétu, la Symphonie du Nouveau Monde de Dvorak ainsi que la violoniste Jennifer Koh dans le magnifique Concerto pour violon et orchestre de Brahms.
Un retour des plus convaincants et prometteurs pour Steve Smith du New York Times : « Based on this initial encounter, a program featuring standard works by Brahms and Dvorak, the prognosis is decidedly positive ».
Cet enthousiasme est partagé par Ronni Reich du Star-Ledger : « Jacques Lacombe could hardly have made a stronger impression in his first concert as the designated music director of the New Jersey Symphony Orchestra. (...) This was easily the strongest concert of the season so far, and one looks forward to hearing more ».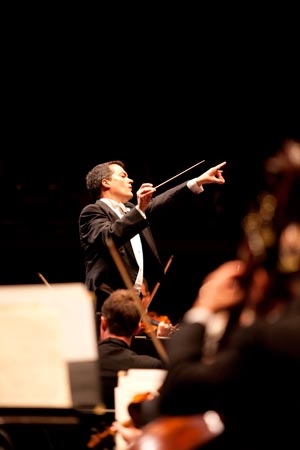 Photo : Steve Rosen